Post trauma treatment
Vizsla Mizska after a car accident
I collided with my car against my six year old dog, Vizsla Mizska. In the beginning, I thought she had nothing. She made no sound when it happened. The only sign that gave out how affected she was by the accident was the fact that she always sat behind the car when we were in the neighbourhood.
Three months after the collision, she started to limp with her right foreleg. The diagnosis of her vet was that she twisted her ankle, or that it bothered her somehow, and with a super strong painkiller, it seemed that the discomfort was under control.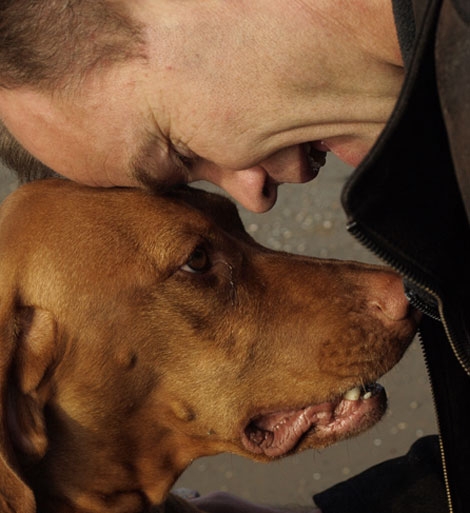 About two weeks later, realising that she still was not walking properly and that every once in a while she was also lifting her right leg, I decided to consult with a back specialist. It is then that I found an Orthomanual vet - Dr. Aharon in Noorden. Mizska, who does all she can to avoid humans in white coats, certainly when they come in pairs (Dr. Aharon and her intern), felt immediately relieved and free after the first treatment, pouncing around in circles, like a puppy. As happy as can be, we went back home. I could feel that even her skin felt more relaxed after her treatment.
It turns out that she had other problems hiding under the surface, and colouring her life in shades of grey. Following her collision with the car and her back injury that ensued, I realised later that she had a discomfort in her elbow and shoulder, walking up and down the stairs, or jumping in the car. All this was resolved by making for her a rear-support sling according to her measurement, which I used to help go up the stairs.
The result was that Vizsla was ready, once more, to take the world in her stride.
Subsequently, we visited Dr. Aharon one more time for a last check up, which concluded that everything was still good.
I felt ashamed for not having noticed her injury and taking her to an Orthomanual vet three months earlier, even though I myself rush to the office of my Orthomanual doctor's office whenever I feel the slightest pain.
You do wonderful work. The consultation by itself if worth the while as a positive experience for a dog who is not a fan of humans in white coats!.
Mr. H. Van Ditmarsch