Arthrosis patients
Bradley
Since last summer, our 9 years old Golden Retriever regularly couldn't use his right front leg when playing with our youngest dog. If that happened he would be crying loudly and after a while he could slowly start to use his leg again. After a consult of a veterinary specialist, wear and arthrosis of both of his elbows was diagnosed, and we were given Metacam for him. That went well for a while, but eventually Bradley became a slow, old dog.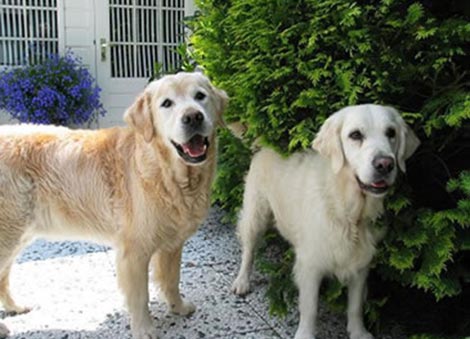 Then we went to Noorden to let dr. Aharon take a closer look at him. She watched him walk, examined him thoroughly, and diagnosed arthrosis in his front paws and elbows. Her advice was a good warming-up of all muscles before walking and cooling of the paws and elbows afterwards, no walking on stairs, and more resting. We also had to give Bradley Canoflex. Two weeks later, dr. Aharon diagnosed that his pelvis and a vertebra were not in the correct position, and she corrected this through orthomanipulation.
After these two visits, Bradley changed completely into a very active and happy dog. At this moment, he is still doing very well!