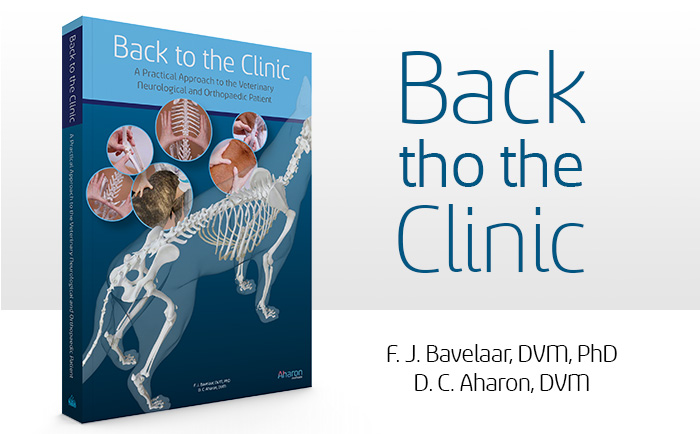 July 2020
Book: Back to the Clinic
A Practical Approach to the Veterinary Neurological and Orthopaedic Patient
Veterinarians Frederique Bavelaar and D. C. Aharon give us an invaluable reference work for orthomanual veterinary medicine. The book provides a detailed introduction to the field of orthomanual veterinary medicine and what it entails. It offers practical guidance on the clinical examination, anatomy, pathophysiology, orthopaedics and neurology. With contributions from several European colleagues: Ángel María Hernández Guerra (Prof, DVM, PhD), Franck Forterre (Prof, DVM, DECVS), Laurent Garosi (DVM, DECVN, MRCVS), Paul Mandigers (DVM, PhD, DECVN) and I. M. (Inge) van Geijlswijk (PharmD, PhD).

The book is fresh from the printer. You can order it now for € 99.95.
A Practical Approach to the Veterinary Neurological and Orthopaedic Patient
In her work as a small animal veterinarian, Dorit Aharon, DVM, saw many dogs and cats with back pain and lameness. Their plight propelled her to develop an improved methodology for diagnosis. In many of her patients, sideways misalignments of vertebrae could be found. With a simple manual repositioning of the misaligned vertebrae, followed by rest, many of her patients recovered. This low-cost treatment protocol has proven beneficial for a large number of dogs and cats, and was further refined into the Aharon Method of orthomanual veterinary medicine. The success of Aharon's clinical methodology has brought her ever more referrals, leading to her current specialized practice.
Aharon has refined her method with various students. With Frederique Bavelaar she compiled a syllabus for teaching the approach, covering topics like the clinical examination, the anatomy and physiology of the locomotor system, orthopaedics, neurology and metabolic disorders. The current book is an expanded reference on the Aharon Method of orthomanual veterinary medicine. It is a pleasure to see it become available to a wide audience in English. Now, even more colleagues can discover this specialized field of veterinary medicine.
19 June 2020, Prof Erik Gruys
How is the book organized?
A practical book needs a practical organization. This book contains 19 chapters. The first chapters present the basic principles. For example, when should you choose orthomanual treatment, and when not?
A key chapter is the one describing the physical examination of the animal. The book closes with a user-friendly index listing the most relevant terms and page numbers on which they can be found.
Product details
• 300 page's
• 17 x 24 cm
• paperback
• 140 figures and illustrations
• ISBN 9789083059709
• Authors
F. J. Bavelaar, DVM, PhD
D. C. Aharon, DVM
This book is a revised and expanded version of a Dutch publication entitled "Orthomanuele Diergeneeskunde: Methode Aharon". That Dutch book is available for purchase at libre.nl.