Cats
Tommy
On October 4, 2009, a day after we picked up Tommy (aged 8) from the animal hotel, we noticed him lifting up his left foreleg when he was sitting. At first, we thought the problem would resolve itself, but after a week we saw no improvement. In fact, it got worse. Now in addition to raising the paw when sitting, he had begun to avoid using the leg while walking. So we took him to the vet.
Tommy got a shot for the pain and we were advised to keep him in a cage, so he could rest the leg.
After 14 days of rest there was no improvement, so we took him back to the vet. After anesthetising him, the vet took some x-rays and gave him another type of painkiller. She concluded from the x-ray that Tommy had arthritis and prescribed Sasha's Blend.
But Tommy's condition seemed to deteriorate. We went back to the vet, who changed his painkillers once more. Again, we saw no result.
A week later, we returned to the vet for another change of medication. At this visit, Tommy's doctor advised us to try acupuncture. Tommy underwent the acupuncture treatment without problem. At first it did seem to have an effect, so we hoped to get the problem solved. Unfortunately, the symptoms returned. We tried special food supplements for arthritis, such as glucosamine and evening primrose oil, but those didn't help either.
On January 12, his condition really deteriorated. He was getting around on two legs and seemed miserable. We were at a loss. The vet's advice was to put Tommy (4.7 kg) on a diet, so his arthritis would be less painful. We have another cat and we were used to keeping food out so they could eat whenever they wanted. Now the two cats had to eat under supervision, and Tommy got only 35 grams of dry food a day.
In early February, the vet told us that treating the pain was the most important thing for Tommy, so she gave us a new type of painkiller, in tablet form. That's when she said that manual therapy might be an option, and she suggested Dr Aharon. She pointed out that we should first wait and see if the medication helped.
Losing weight did not improve Tommy's condition, nor did the tablets. In short, there was no positive change and we were starting to despair. The x-rays were sent to a specialist for a second opinion, but no solution was offered. On the 17th of February, we were advised to do new x-rays but we decided against it. Tommy had to be put under for this procedure, and the last time he was anesthetised, his condition had deteriorated.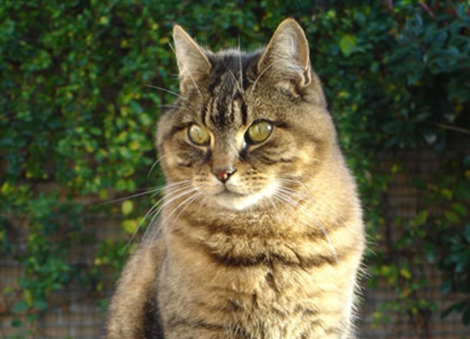 We decided to call Dr Aharon and made an appointment for 26 February. We took Tommy the one and a half hours by car to Noorden. Dr Aharon noticed that a number of vertebrae in his back and neck were not well positioned and she adjusted them.
After the treatment, she gave us instructions to follow at home. Along with the medication, we had to massage him and make him do exercises, to train the muscles in his legs.
Our next appointment was 17 March. We noticed a slight improvement, but Tommy's situation was still not good. Dr Aharon, however, saw clear improvement over our previous visit.
Our next appointment was two weeks later. At that point we all could see that Tommy's condition was continually improving. We agreed to get in touch again in July.
In late May, Tommy's recovery had a slight set-back. He got up onto the flat roof of our house, after which his condition briefly worsened. By early July, however, Tommy was back to his old self. After our final check-up in October, he was pronounced a fully recovered cat.
We are very happy that we finally encountered Dr Aharon, so Tommy can have back a pain-free life.
Michel and Françoise