Cats
Our British Shorthair Loesje and her back problems
Our British Shorthair Loesje (8 years old) got sick in the spring of 2010, although it was not clear what exactly was the matter with her. After a number of different tests, our vet admitted that all the medication and injections failed and that a conclusive diagnosis cannot be made. As for us, we thought already at an early stage that Loesje had back problems, because it was difficult for her to walk, she could no longer jump out of bed and had trouble walking up the stairs. All this meant that she walked less and spent most of the day lying in one quiet place. We could notice clearly that she was suffering from pain and that she was not happy. Still, the vet could not find anything, nor could the two specialists we also saw help us in any way, even though they administered all sorts of medication and shots, and made x-rays and scans throughout these months.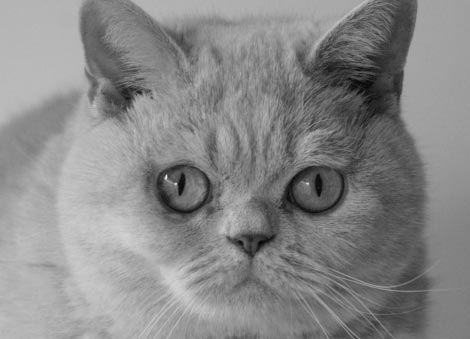 In the summer we changed vets. The new one – a vet and a homeopath – listened carefully to our story and proceeded by examining the back problem. He noticed that Loesje had hip dysplasia, which caused an imbalance in her back's vertebrae.
Since Loesje had already received so much medication, we were wary about giving her new pills. The mere act of getting the medication was so bothersome for her that she started avoiding us more and more. Still, we continued giving her painkillers all these months because we saw they allowed her to walk better for a while.
Later, we came upon Dr. Aharon, who told us honestly, from the onset, that she can give us no guaranty Loesje would ever get better. In the following months we visited her five times approximately, for a correction of her vertebrae's positioning (this is a very short treatment and only when a vertebra is manipulated could Loesje feel something for a short moment).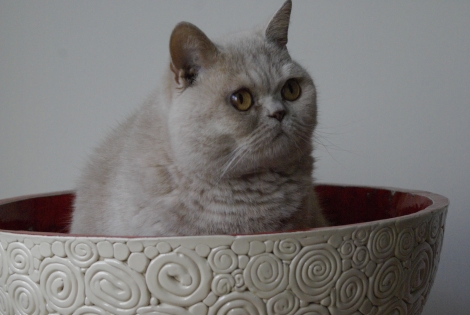 We realised ourselves, in the following weeks, that there was a discernible progress in her condition and we saw that very slowly, she was becoming more flexible and that she started moving more again. She also sought more contact with us.
In March 2011 we visited Dr. Aharon for the last time for a little correction. This time, we also received a number of glucosamine tablets made by Seraquin, which were good for her bones and muscles. "See if she finds it tasty and if it helps", told us Dr. Aharon. Luckily, she did like them, making them a sort of candy for her.
We are convinced that Dr. Aharon's treatment, along with the Seraquin tablets, have had a very good effect on Loesje. She moves sufficiently again, jumps on the table and runs after butterflies and the likes in the garden. We have decided to continue giving her Seraquin (100% natural product) and are happy that Dr. Aharon alerted us as to their existence.
We are fortunate to have a happy cat again! In hindsight, we would have liked to have found Dr. Aharon earlier. This would have saved Loesje a lot of suffering and us a lot of worry and unnecessary costs. I can recommend Dr. Aharon without a doubt: she has her own philosophy, and she pays a lot of attention to the story the owners of the sick animal have to tell. This, together her with golden fingers, fulfilled a great promise for us!
Mr. De Jong