Hernia
Lollige Leentje, the Dachshund
Dear Dr. Aharon, we wish to thank you once more for everything you did for our Dachshund.
We came to see you last year for the first time. Our long-haired Dachshund Leentje, then aged four, was suffering from a hernia. The second half of her body was completely paralysed and she couldn't take it anymore. It was heartbreaking to see! Our vet could not help her anymore. The only remaining possibility was to get an MRI scan in the animal clinic in Utrecht, and according to the results, decide whether or not to operate.
We decided then to seek other options. As members of the Dutch Dachshund club, we got in touch with Mrs. Velleman. She directed us to you. Without knowing what to expect, we drove to see you in Noorden.
According to you, Leentje had a pretty hefty hernia. Three of her vertebrae were skewed. The day after you manipulated her, I saw her move her tail a bit. That was already a miracle! The following day, the tail moved even more. Each day saw an improvement. That gave us hope! We were enchanted. After a few days, she was using one of her hind legs, and a couple of days later she was using both. She regained control of her bladder and she could poop again. I walked her out, holding a scarf under her belly to support her, only for a short while, so that she can relieve herself and then back inside for her rest. This was not always easy – as we have three more Dachshunds and three Bouviers, so there was always something to raise her curiosity. After 14 days we came back to see you. By that time, she could already walk a little. Since then, her situation has been only improving.
We couldn't believe our joy! Last time we visited you it was in April, Friday 13. For many people, this is an unlucky number, but not for us. Leentjehas recovered! Naturally, we always have to be careful with her and pay attention, but she's back to her normal, happy, joyful Dachshund self.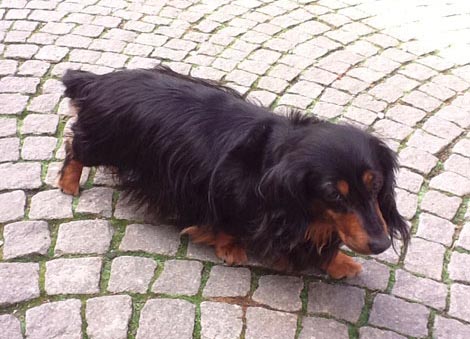 Happy, Leentje can walk again.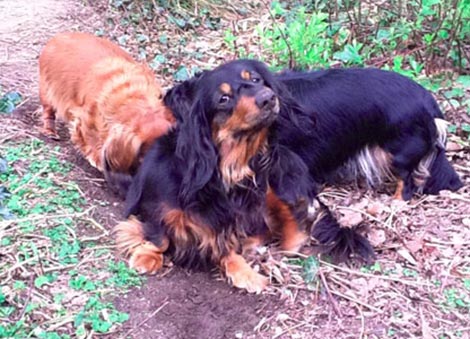 Scratching by herself is possible again! Thank you again, from the bottom of our hearts. From us and our Dachshund friend!
The Suppers Family