Dr. Diti Ronen, Israel
Cocker Spaniel Baffel had a lot of pain
A week after I lost our beloved dog Kitch, I saw Baffel for the first time. I saw him on an Internet site of the Israeli SPCA in the North of the country, together with many other dogs. It was during the second Lebanon war.
Canon and gun fires in the North of Israel. Many dogs were scared of the bombs and fled from their houses. Other dogs were abandoned and left behind when the family had to move to friends or relatives looking for safety for themselves. I looked at the dog: an English Cocker Spaniel, young, very thin and I called the number on the site.
Two days later I went to the North of Israel to pick him up. He looked happy and healthy, but something in his movement was strange. When we got home, he moved around but in the morning he could hardly get up and stand after lying or sitting down. Every time he got up, he yanked of pain, cried, groaned and was in agony. The first doctor who saw him, diagnosed him with Arthritis and gave him pills. The pills didn't help and the situation worsened.
Another doctor suggested Physical Therapy and it didn't help. The third doctor talked about a Chronic Disease etc. At the end, we didn't have any other choice than giving him daily Rimadyl. Along the period of treatment with Rimadyl, Baffel lost weight, got weaker, had difficulty getting up and he seemed to be, in every movement he made, extremely painful.
Dr. Dorit Aharon saw Baffel a half year later. She examined him and found misalignment in several vertebrae in the vertebral column, the lower back and in the tail. While examining the dog, she manipulated the vertebrae in his vertebral column. I stood aside and was stunned to see Baffel. He was relaxed, as though he knew the treatment is for his benefit. At the end of the treatment, he stood up and began to run around, thankful, announcing the world of the relief he feels.
From that day of the incredible treatment, Baffel changed completely: he gained weight, got stronger and turned out to be a very dynamic dog full of charm. He runs and is as quick as a rainbow, he jumps and moves around, active and energetic, strong and very muscular. Needless to say, that from the day Dr. Dorit Aharon treated him to this day, Baffel doesn't need Rimadyl or any other pills.
Thank you Dr. Dorit Aharon, that changed the life of Baffel and mine to a happy, healthy life.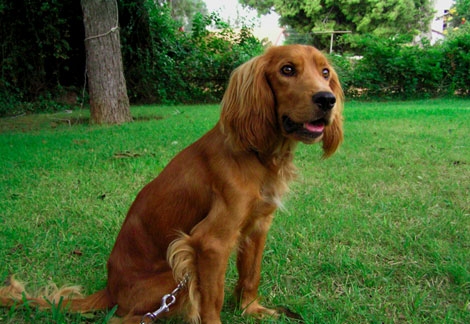 Baffel in his difficult days, needing medicines and can hardly get up. Before the treatment of Dr. Aharon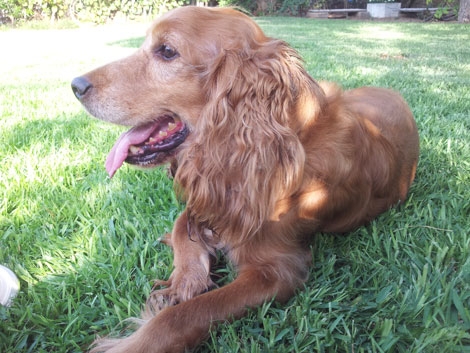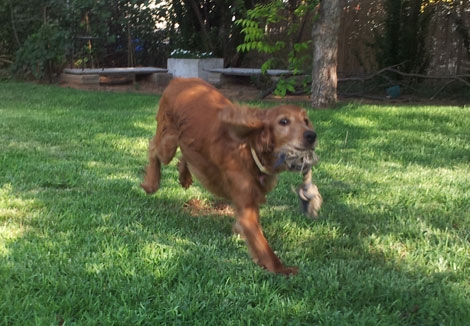 Baffel today, with no medicines.